---
RELAXATION OF COVID RESTRICTIONS -
OUR BOOKSHOP IS ONCE AGAIN FULLY OPEN
MONDAY, THURSDAY, FRIDAY & SATURDAY

10.00 am till 4.00 pm
Vehicular access from Houndgate - DL15SG
Pedestrian Access from Blackwellgate
---
Darlington Lions club has helped needy causes the local community for 50 years and we endeavour to continue the good work for years to come.
So, should you feel able to help with our charitable work please feel free to make a donation to our Charity account using the "DONATE NOW" button below
---
LION TOM PEACOCK MEETS THE ROYALS !!!
On 19th May 2022 Lion Tom Peacock had the privilege of attending a garden party at Buckingham Palace.

Tom was accompanied by his daughter Susan travelling by train from Darlington and taxi to the Palace. As the photos below show, they were blessed with a beautiful sunny day.
The highlight of Tom's visit was his meeting and chatting with The Countess of Wessex,
G.C.V.O. Patron of Lions Clubs.

During the "walkabout" Tom says Sophie spotted his Lions badge and she came over to speak with him.
Later in the day Her Royal Highness Catherine, The Duchess of Cambridge, came over and spoke with Tom.
After the presentations Tom & Susan enjoyed an afternoon tea in the large marquee within the grounds of the palace.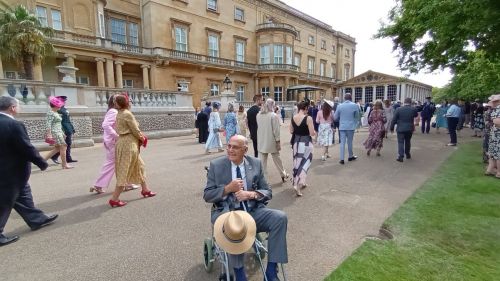 Tom at Buckingham Palace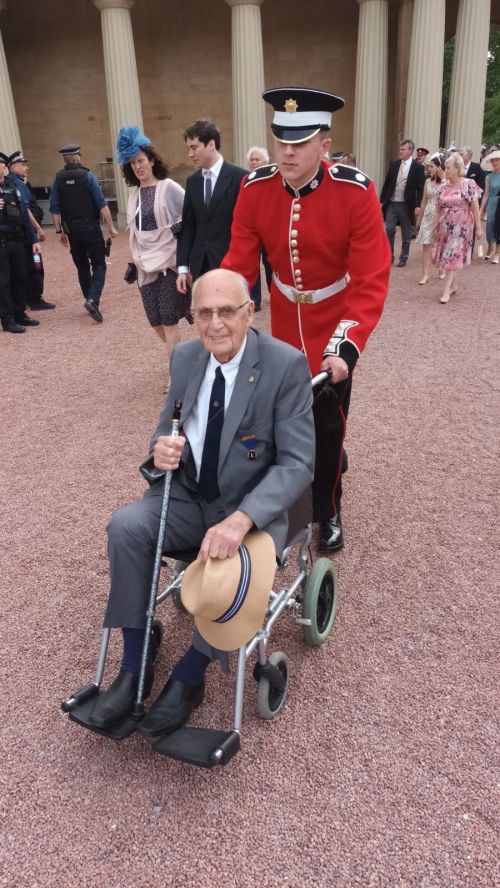 Tom being looked after by a guardsman.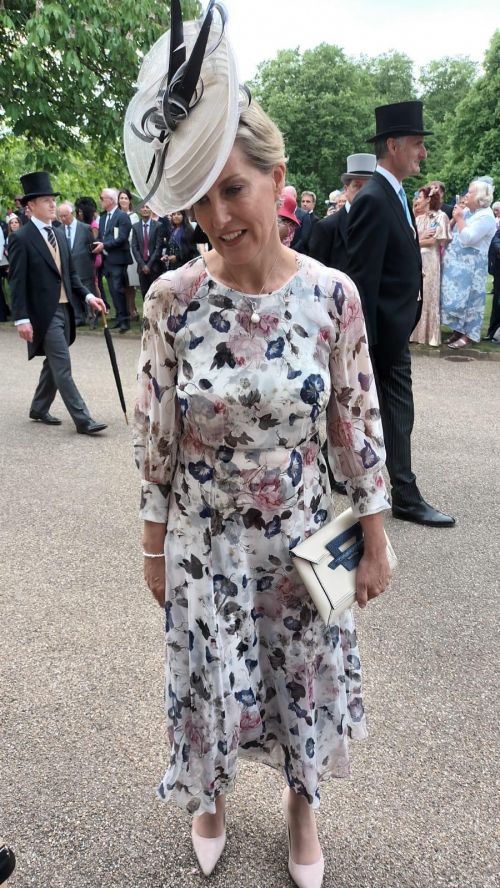 Tom (just out of shot) talking to The Countess of Wessex about his years as a Lion.
Tom regaling The Duchess of Cambridge with his stories about Lions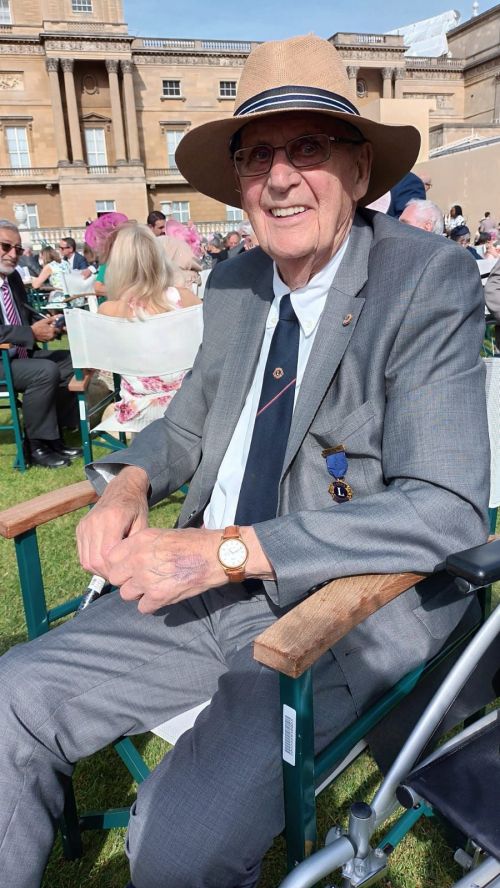 Tom with his badge, tie and past president's medal
---
LIONS AT BUCKINGHAM PALACE.
Countess of Wessex G.C.V.O. as Patron of Lions Clubs of the British Isles held a Royal Reception at Buckingham Palace on Wednesday, 28th February to celebrate a 'Century of Service'. HRH has been its Patron since 2004.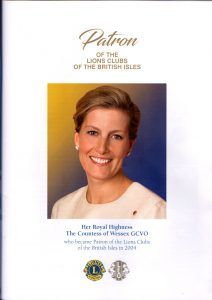 Hundreds of Lions members joined together for the 100th Birthday of Lions Clubs International to celebrate this landmark anniversary with the organisations' partners.
Lion Phil Nathan MBE, Chair of the Centenary Celebrations for Lions Clubs of the British Isles said "let me begin by saying that during our 1st Century of service, Lions Clubs have touched millions of lives of people that needed us. 100 years of service to the community is a remarkable achievement, made possible by the selfless actions of many thousands of individual men and women, each of whom has sought to make 'their' community a better place. As we enter our 2nd Century, the cry for help from those in need will most certainly become louder and we as volunteers are ready to show as Lions, We Care".
Lions Clubs International focusses through its Lions and Leos members upon major projects that address diabetes, youth, the environment, hunger relief, childhood cancer and sight issues affecting communities throughout the world.
---
For the year 2018- 19 Heel & Toe is to be our president's nominated charity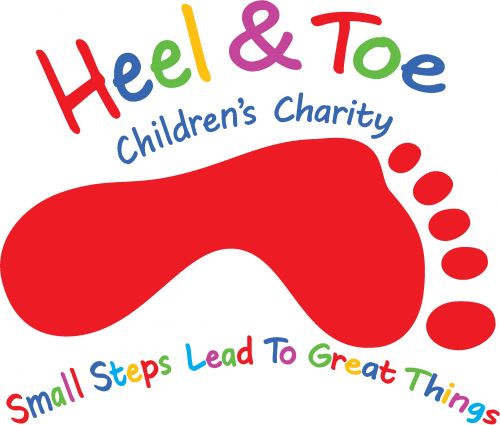 Heel & Toe is a local children's charity based in County Durham which helps children with cerebral palsy and other physical disabilities across the North East. The charity provides FREE conductive therapy and subsidised therapies such as physiotherapy, speech and language and SEN tutoring to around 125 children every week. They receive no government funding and need to raise £500,000 per year.
They are the only charity of its kind in the region and rely on support from the local community. It is an exciting time for Heel & Toe as they are due to open their second Therapy Centre, a Hydrotherapy Centre in November, which will allow them to extend their services and help even more disabled children. For further information, please visit their website: www.heelandtoe.org.uk
---
---

Autumn 2018 saw the first tranche of money donated to Heel & Toe. A cheque for £2,500 is presented by club president Tony Gent. The presentation was made on 30th November at The Heel & Toe winter wonderland ball held in the Hilton Hotel, Gateshead.
---
In 2016 - 2017 our principal fund raising efforts were directed towards :-
The Darlington & Bishop Auckland Hospitals MRI Scanner Appeal.
To raise fund in support of the scanner we held 2 major events:-
A grand raffle with the main prize being a week's holiday in a traditional stone cottage in Low Row, Swaledale and a Musical concert with The Sans Pareil Singers & 2's Company .
These two events held in May & June culminated in our presenting a cheque for £6,000 to Pat Chambers from the MRI Scanner Appeal. This handover was made by Ian Barnes, outgoing club president, on 30th June 2017 at our annual Charter evening. See below.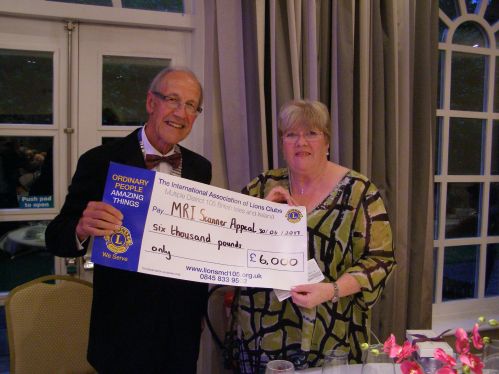 ---
---
Darlington Lions Club - Club of the Year!




Photo shows - Darlington Lion President, Robert Hillary (centre) receiving the "District 105 N.E. Club of the Year" Trophy award for 2012/13 from International guest Jama Wahl, Lion President, Streator Hardscrabble Lions Club , Illinois, USA. and John Sutherland (right) Immediate Past Governor, District 105 N E.

John Sutherland, Immediate Past Governor, said that the award in his year in office was given due to sheer diversity and added value of work by Darlington Lions Club. They have supported on a local front the Blind & Visually Impaired, Talking Books & Newspapers, various charities for the Disabled, Family Help, many children's charities and an on-going presence in their community with their excellent bookshop. Internationally they have donated to Indian eye camps, African famine and Kumi Village Trust in Uganda. 2nd Vice District Governor, Dave Wells, commented "Very well deserved" and many more congratulations came from other clubs. Robert Hillary, Darlington Lions President, said that the club was delighted and privileged to have won this trophy award out of a total of 43 other Lions clubs in the North East and Scotland and this was quite an achievement that the club could be proud of. The award was made at the 105 NE Convention hosted by Malton Lions Club.
Serving the community with Pride.
Welcome to our website!
Please read on to learn more about the Darlington Lions Club that blends Fun, Fellowship and Fundraising with a sense of Local Community and Lots of Challenges!

If you are new to Lionism, through these pages you will be able to find out about the work of the International Association of Lions Clubs and The Darlington Lions Club in particular.
If you are a Lion, and perhaps planning to visit our area, we hope that the information on our website will encourage you to spend some time with us.
Have you some time to spare?
Interested in becoming a member? Just use the "Contact Us" Page! or telephone on 0845 833 9874. If you are unsure of making a full commitment just yet why not consider coming along to a meeting to see what happens and sample the activities of the club.
Or, if you are not ready to join our Club just yet, please become a "Friend of Darlington Lions" and help us whenever possible with our various activities, some of which are listed here:
COMMUNITY SERVICE
FUND RAISING
SOCIAL ACTIVITIES
ABOUT US
Darlington Lions Club members with Lion president Robert Hillary holding the "Club of the Year" trophy.
Heel & Toe is a local children's charity based in County Durham which helps children with cerebral palsy and other physical disabilities across the North East. The charity provides FREE conductive therapy and subsidised therapies such as physiotherapy, speech and language and SEN tutoring to around 125 children every week. They receive no government funding and need to raise £500,000 per year. They are the only charity of its kind in the region and rely on support from the local community. It is an exciting time for Heel & Toe as they are due to open their second Therapy Centre, a Hydrotherapy Centre in November, which will allow them to extend their services and help even more disabled children. For further information, please visit their website: www.heelandtoe.org.uk"
Print our poster:
Vehicular access from Houndgate (Adjacent to Crooners Champagne Bar ) DL1 5SG
Vehicular access from houndgate (Adjacent to CROONERS Champagne Bar ) DL15SG
Veh
Veh