International Aid
For many years Darlington Lions have supported overseas projects mainly in Third World countries where very poor education, health and living conditions have been brought to our attention.
On 12th December 2011 Darlington Lions Club discovered a new and burgeoning charity which is based in Newton Aycliffe but its work is concentrated on "street children" living in the slums and orphanages in the Philippines. At their club meeting Naomi Tomlinson, aged 20, spoke on the work of the organisation called TRIPLE E- The 3 Es standing for Empowerment, Enabling & Encouraging.
Three years ago she visited the Philippines and was shocked to see how many hundreds of children subsisted by scavenging in the local municipal rubbish tips. Here they salvaged all manner of junk for recycling or re selling for a few coins to help feed and clothe themselves. While there she also became aware of the huge number of girls and boys who had been sexually abused and cast out to fend for themselves ending up in rather squalid orphanages.
Having been deeply moved by what she saw she vowed to improve the lot of these youngsters so with the help of the charity's trustees she has established Triple E through which aid will be given right where it's best required. She has been back working there for a year in 2009 and hopes to spend 10 weeks back there this summer before embarking on furthering her education. Naomi is currently studying for an access qualification which she hopes will allow her to start a university degree in nursing this September.
At the end of the presentation by Naomi, Lion Club President Richard Western presented her with a cheque for £500.00 to help with this excellent work.

The photograph shows Richard Western ( Club president ), Naomi & Neil Anderson (Chairman of Service Committee )
---
KUMI ( Uganda)
The Kumi Community project is the brainchild of a Darlington resident - Elspeth Robinson. It helps families with children with disabilities, and funds the building of mud huts, pit latrines, provides mosquito nets, blankets, mattresses, tricycles for the disabled, plus the repair of bore holes etc etc. Darlington Lions have made a number of donations the organisation which has enabled it to buy some of the above items and a cow!!! This was the provision of a crossbreed cow, principally for milk production thus enabling the children at Adesso School to have mid morning millet porridge.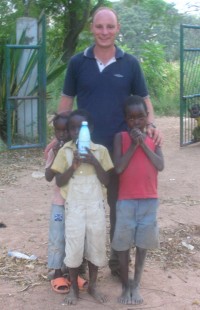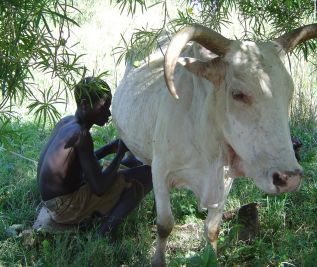 The KUMI Cow ! and the first bottle of milk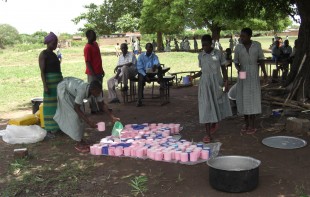 Morning meal of Millet Porridge
---
THANDIGUDI (Tamil Nadu, India)
The Goodwill Orphanage in Thandigudi in India is part of the Goodwill Village scheme founded in 1963 by John Foster, an ex-schoolteacher from Stockton.
The first Goodwill Project began in 1974 after John and Pamela Foster had gone to India with the intention of giving a couple of years useful service to uplift some of the most needy and destitute children in the Third World. Now Goodwill Children's Village and Homes are thriving communities of girls and boys who once knew the real meaning of grinding poverty, the like of which would appal people in the Western World. The projects are in the charge of capable and dedicated Indian staff who play major roles in welfare and administration.
This orphanage clothes, feed and educates local children and for the past 15 years we have made regular contributions to the running of the very worthwhile project.
---
EYE CAMPS IN INDIA & BANGLADESH
Darlington Lions Club has supported the "Lions Eye Camp Programme" for many years by making financial contributions to this excellent work in India & Bangladesh.
The programme has been running for well over 30 years and over 750,000 men women and children have had their sight restored.
This remarkable work by British & Irish Lions can be traced back to 1972 when the organisation donated a Land Rover mobile eye unit for use in Bangladesh. Originally the operations were carried out in the back of this Land Rover but with time, conditions improved and now those requiring treatment are taken to hospital.
Through this excellent work the eye needs of the community are met from the early prevention of disease by promoting good eye health to curative surgical eye care, aftercare, rehabilitation & training.